Full metal valve with manometer
Economy line
The DÖKA permanent pressure powder fire extinguishers are equipped with an extinguishing agent container made of quality sheet steel. The high-quality polyester resin coating is tough and weatherproof and protects the extinguishing agent container from corrosion. The metal fitting with pressed brass body is equipped with a pressure gauge and a separate test valve as standard.
ABC dry powder
DÖKA fire extinguishers with ABC extinguishing powder (ember fire powder) are versatile and superior to other extinguishing agents in their extinguishing effect on standard objects. The extinguishing effect takes place suddenly. Special barrier effects prevent re-ignition in solid fires, e.g. B. wood. The extinguishing powder cloud unfolds over a large area and protects against smoke and radiant heat.
The extinguishing powder used in DÖKA powder fire extinguishers impresses with an excellent extinguishing effect on fires of fire classes ABC.
ABC extinguishing powder is electrically non-conductive, so it can also be used in electrical systems in accordance with VDE 0132. It is environmentally friendly and can be recycled into fertilizer after its useful life.
Fire class A, combustible solid materials
such as wood, car tires, textiles
Fire class B, flammable liquids
such as alcohols, petrol, paint, oil
Fire class C, flammable gases
industrial and natural gases
Electrical systems
Up to 1.000 V, minimum distance 1 meter
Areas of application
outdoor areas, vehicles, garages, tire stores, heating systems, chemical industry, refinerie.
Capacity: 6 kg ABC-dry powder
Rating: 34A / 233B / C
Dimensions H x W x D ca. mm: 525 x 250 x 160
Weight ca. kg: 9,4
Throw range ca. m: 7
Discharge time ca. Sek.: 20
Operating temp. °C: -30 to +60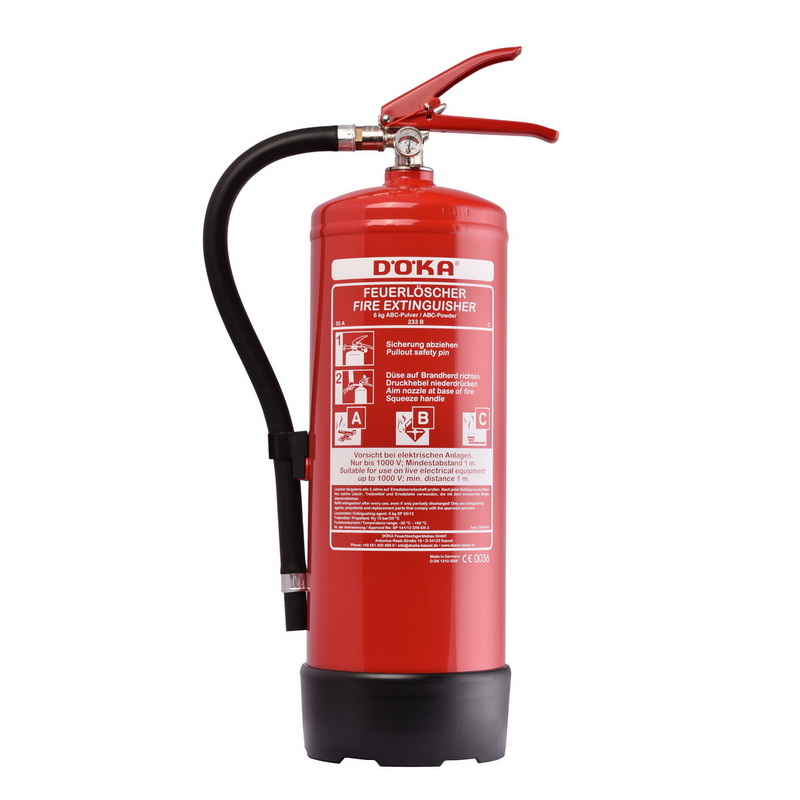 Pressure lever valve with brass body, manometer and test valve
Nickel-plated brass fittings, the handle and the pressure lever are made of powder-coated steel. A manometer shows the functionality of the fire extinguisher at all times. A separate test valve simplifies service.
Extinguishing agent cylinder
Other powder fire extinguishers