PM50 - D-powder for metal fires
The innovative design of these devices combines all the features that can be found on modern extinguishing devices of this type. Namely, maximum functional benefit, simple service and low maintenance costs. The container and chassis form two separate units. In this way, welded connections on the pressure vessel are reduced to the bare minimum and any repair work is considerably simplified. The large base frame of the chassis serves as a ram protection for the container and as a carrying aid for transport over stairs and landings.
Extra large container opening with solid brass sealing lid and integrated safety valve for easy, safe internal container control.
Metal fire extinguishers for fire class D
The metal fire extinguishers DÖKA PM50 can be used for production and storage areas with flammable light metals. The extinguishing powder is applied softly and without high pressure via an extra long, specially constructed extinguishing shower in order to prevent the metal chips from being swirled up. The extinguishing lance, which is made entirely of metal, is attached to the standard tensioning strap of the fire extinguisher. In the case of metal fires, it is important that the extinguishing agent is released directly at the source of the fire.
Capacity: 50 kg D-powder
Rating: D
Dimensions H x W x D ca. mm: 1190 x 420 x 600
Weight ca. kg: 105
Throw range ca. m: -
Discharge time ca. Sek.: 90
Operating temp. °C: -30 to +60
Optionally available with 5 or 10 metre hose line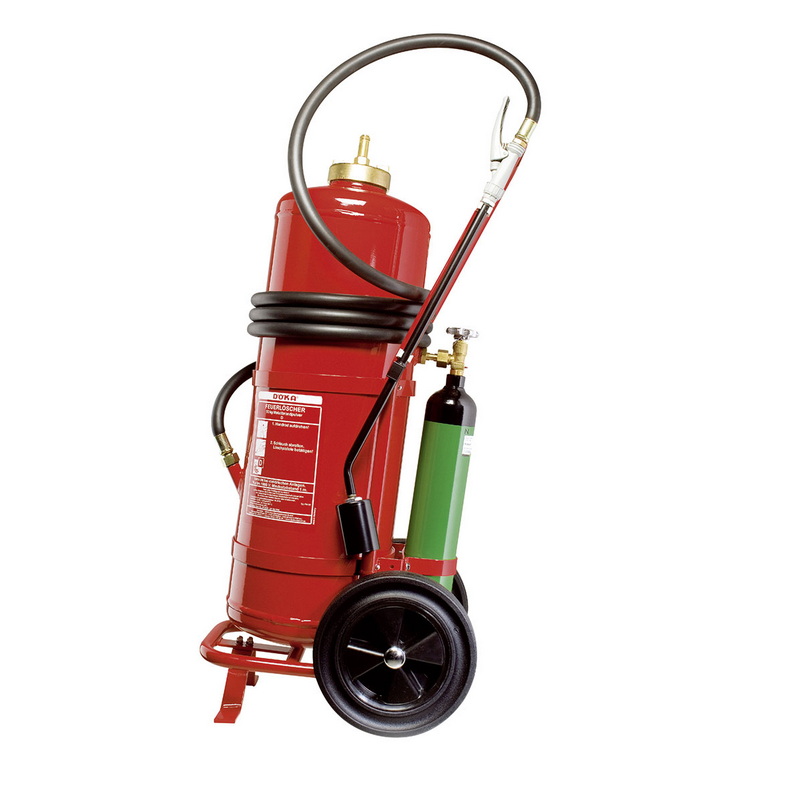 Other mobile fire extinguishers